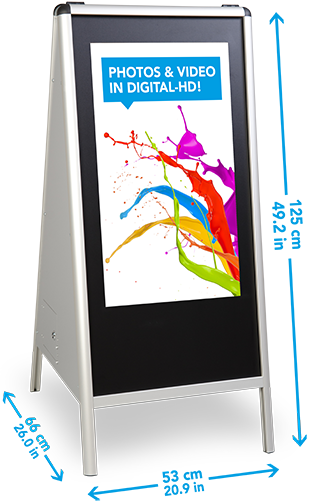 Display boards have always had the function of drawing attention to something special. Nowadays they can be seen almost everywhere. These typical triangular analog display boards are commonly known as 'customer stoppers'.

With the development of the electronic display board, MUVI has now entered a new dimension in advertising.

The brilliant and high-resolution full HD display of the new MUVI display board enables the presentation of any number of different motifs (advertisement, shopping tips, general information etc.) for the first time. There is no limit to the creativity of design options - whether stationary displays, animations or videos - in contrast to the conventional 'customer stopper' where only one or two printed placards can be displayed at any one time. The sequence of the motives displayed on the board (in order of date, weekday and time) can now be presented exact to the second - thanks to a special media player with, for instance, an integrated schedule function. Updating of the motifs can now be done instantly, rapidly and without any complications - at the touch of a button.

Printed placards are a thing of the past!

The location and operational uses of the MUVI electronic display board are virtually unlimited. Possible uses include stimulation of an increase in sales or impulse shopping in retail or department stores, DIY centres etc., or welcoming displays in hotel lobbies, spa & wellness facilities, attractive presentation of menus or dishes in restaurants and a multitude of other fields.
MUVI Display Board with a 32 inch display on the front side
· designed for indoor use
· mains-powered
· reverse side writeable and wipeable
· weight: 23 kg / 50.7 lb
---
MUVI Display Board with two 32 inch displays - front and reverse
· designed for indoor use
· mains-powered
· 32 inch full HD display on both sides
· weight: 30 kg / 66 lb
---
Battery-powered MUVI Display Board with a 32 inch display on the front side
· designed for mobile indoor use
· battery powered with more than 10 hours continuous performance
· reverse side writeable and wipeable
· weight: 35 kg / 77 lb